Jeffrey Lewis Playing to Win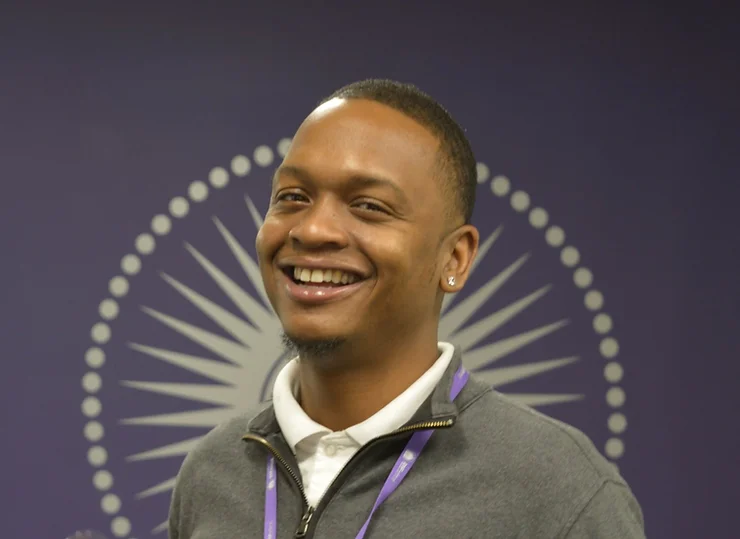 It's 12 o'clock noon on any given Sunday. The phone rings. Jeffrey's baby brother is on the line: "I wanna play today. Where are your friends?" his brother asks. Before long, they're in the huddle, Jeffrey's crew facing off against his brother's. Hut 1! Hut 2! Then the smack of skin, the snap of a leather ball in a sure hand's tight grip. The skidding sound of sneakers on dry grass, and the salty drip of sweat on men's brows, intent on winning.
Time disappears as they play for hours. Snow on the ground? Who cares. Rain is nothing but a little moisture from the sky. All that matters is the winner, the one with bragging rights, claiming best of three.
Meet Jeffrey. As DSFederal's Help Desk Specialist, he spends his days running from team member to team member, making sure their IT needs are met with speed and accuracy. His weekends are also spent running. However, when he leaves his desk, the run features grass beneath his feet, sky above his head, and a ball in his hand.
Jeffrey is an athlete, devoting himself to the physically demanding sport of football. He switches up between playing quarterback, running back, and wide receiver, but he's "always on defense," he says, meaning always ready to mix it up and get control of the ball.
Jeffrey's mom exposed him to the full range of sports during his childhood days growing up in Prince George's County, Maryland. He tried basketball, soccer, karate, and football from the time he was six years old, and that's when he developed the athleticism that guides him through every weekend game he plays.
Does he get hurt? Sure he does. "Injuries are part of the sport," he says. He's suffered multiple sprained ankles, a torn MCL (Medial Collateral Ligament), and maybe even a few concussions, but that doesn't keep him on the sidelines.
How does the game help him here at DSFederal? "The focus," Jeffrey says. "You have to be 'locked in' out there on the field and in here. When I'm playing quarterback, I'm using the same mentality I bring to work, which is to win."
He's hoping his three-month-old son, Amari, will be an athlete too. He plans to train his son up and nurture within his soul a love for sports.
Jeffrey's advice for us: "A healthy heart is a healthy start! Find what you love. I tried everything, and at the end of the day, I like what I love."
Thank you, Jeffrey, for your healthy inspiration and positive, professional spirit. DSFederal scores with you as part of our team!