Nigel Shaw: Visualizing the Genius of Data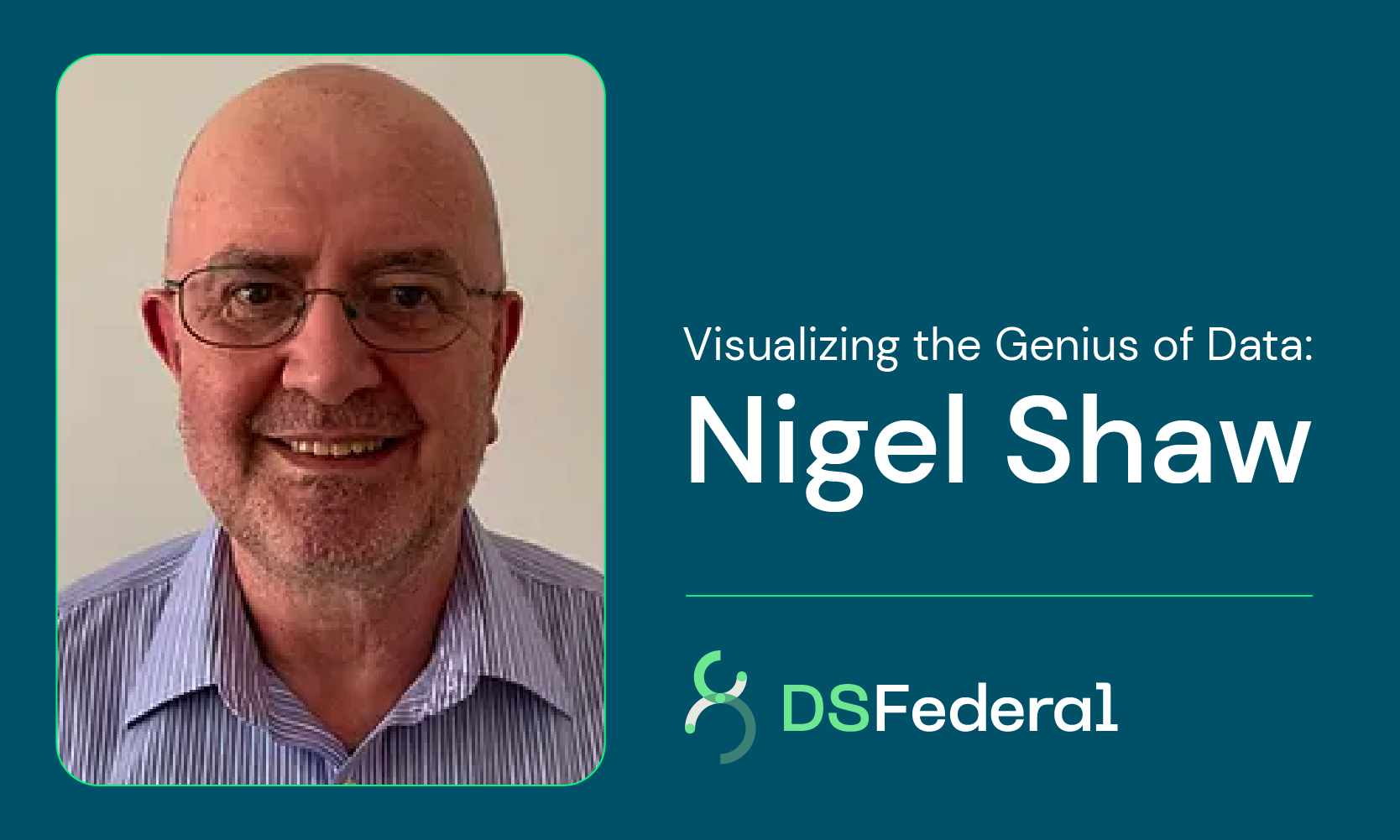 "Data visualization is just another form of communication. We haven't changed the way we store and handle data since the days of the Egyptians. We've only changed the medium, from clay tablets to flash drives. We have a long way to go in the evolution of databases," said Nigel Shaw, Solutions Architect at DSFederal and self-proclaimed data humanist.
His fascination with data dates back to when he was six years old, growing up in London, England. His insatiable love of words and reading led him to books on everything from travel to history to biography.
"I always had a hunger for knowledge. I am innately curious, he said. "I loved library catalogs because I wanted to find as many books to read as I could. The quest for knowledge led me to an interest in how data is organized which led me to the first system I helped program which happened to be a library catalog."
Nigel Shaw has been a mastermind behind DSFederal's Next Generation IT Services (NGITS) team for two years. His multifaceted role includes building enterprise dashboards to monitor and manage the project's processes, systems architecture, modeling, analysis, and developing training classes for Power BI for team and federal staff, and data visualization.
His impressive background equipped him to provide major innovation to NGITS. As a Big Data Architect for Aginity, a software company in Chicago, he provided technical leadership for companies like Kohl's, Phillip Morris and the grocery store chain, Kroger. He also mentored developers and data modelers, and designed and built analytics to support campaign execution for a system that will eventually support as many as a billion customers.
Nigel considers himself a "data humanist" because he understands and respects healthcare data. This understanding guided him when he developed and presented training classes for the Power BI team and federal staff, and designed structural improvements to the IMS, enabling better data visualization for projects within the system. "Behind every piece of data is a person who is relying on you for accuracy. You have a responsibility toward the people who consume and represent the data."
Nigel's extensive experience with dashboard principles and analytics powers his project performance: "My role is fifty percent thinking; fifty percent doing. I love writing documents, dotting the I's, crossing the T's. Managing is all about a thousand details, but I have the extensive experience with dashboard principles and analytics. I build the bridge between beauty and functionality."
Nigel's passion and expertise propel DSFederal to the epicenter of health IT. We are strengthened by the clarity of his thought and the power of his drive and determination.