Home Improvement Through Woodworking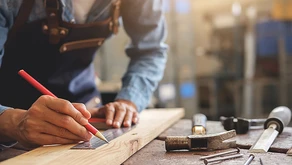 This month, our intern, Justin Zhu interviews Director of Capture Management, Richard Riley and writes about his woodworking hobby.
When Rich is not busy capturing new opportunities with the Business Development team, he has his own woodworking projects. In 2004, Richard was still serving with the Marine Corps and, with no prior professional experience, began renovating and flipping houses on the side to rent with a couple of friends. Richard explained that YouTube quickly became his teacher and, at times, inspiration. After realizing that customers would pay significantly more for minor renovations like cabinetry, trims, and other decorations, the renovations began, and his new hobby was born.
Roughly two and a half years ago, Richard decided to shift his focus away from his rental properties and focus more on projects around the house. He has been working on his current project for almost a year, which entails a nine-foot-tall by fourteen-foot-wide multi-purpose cabinet/shelf for his wife's office. Along the way, Richard has been teaching and mentoring his fifteen-year-old son because he believes these handy skills are essential at any age. Like any fifteen-year-old boy, his son would much rather watch other YouTube videos. Nonetheless, he has followed his dad's guidance and contributed to his mom's office by doing most of the trim work.
Now, Richard uses his woodwork hobby as a de-stressor and escape from busy days. It serves as a healthy way to release stress and blow off any built-up steam. After a long day of thinking, woodworking is an excellent way for him to go mindless and have alone time, focusing on his craft. Richard recommends that "if you want to keep all fingers, don't try it out," but the smell of wood and the ability to let your mind go wild is worth it!