Maggie Lin, World Traveler, Calls DSFederal Home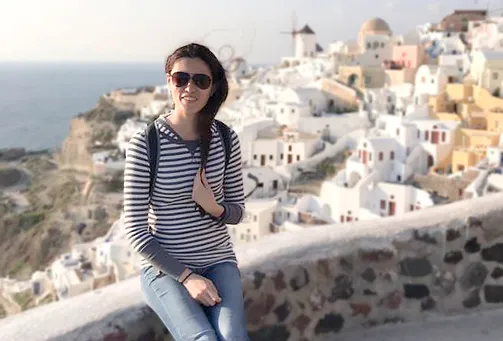 Meet Maggie. Contracts Manager Maggie Lin reviews complex documents for wording and ensures that the conditions are reasonable, but that's just part of what she does. Since 2016, this jet setter has traveled to virtually every corner of the world.
With her travel buddy/husband Paul Shih (also of DSFederal) in tow, Maggie has visited places most of us only see in our dreams: Greece, with its satin blue oceans and seamless sky draped over the majestic island of Santorini, with its hillsides layered with houses, white as bone; Ireland, the land of jewel-green hills, and France, Vienna and Malaysia with their tangled streets and centuries of history.
Maggie breaks into a smile as she speaks of the time she and Paul woke at dawn, boarded a hot air balloon and marveled at a breathtaking view of hundreds of rock formations dotting the hills of Capadocia, Turkey.
Safranbolu, Turkey is her favorite destination. It's a town in the Black Sea region where red-roofed houses jut from the land like teeth; a place where she can lick her fingers over pide, a sailboat-shaped bread stuffed with lamb and onion, cheese or other delicious toppings.
Her phone is a virtual travel guide of pictures: the time she stood in a crowded market in Japan and let a luscious cube of Kobe beef melt on her tongue; the flights to Dubai, Oman and Hong Kong; and pit stops on her way to Taiwan to visit her parents.
Why does she adore travelling to exotic locales like The Maldives, an island nation that floats in the palm of the Arabian Sea? "You get to relax then return to work with a new feeling, a new vision, a new idea," she says.
Her travel secret? "Plan ahead, plan everything," she says. "Read the reviews, take notes. Do your research, then enjoy!"
What's next on her itinerary? Returning to Thailand and Japan for succulent sushi and ramen or perhaps to grab another mouthful of okonomiyaki, a layered dish of cabbage, noodles and eggs that some call Japanese pizza.
DSFederal is enriched by the work team members do both on and off the job. We wish Maggie Lin bon voyage each time she leaves us and always, a safe return home!