Matt Donovan Takes it to the Mat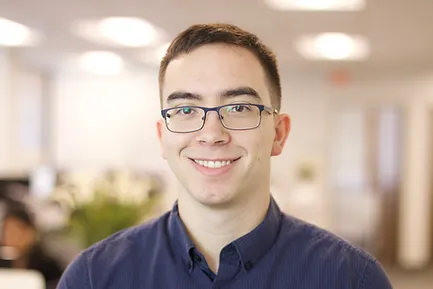 Meet Matt. He spends his days researching opportunities for DSFederal to pursue, but after work, he pours his heart and his body into the art of Brazilian Jiu Jitsu (BJJ). Three to four evenings each week, Matt puts on his Gi or rashguard and heads to Standard BJJ to take it to the mat.
Even though Matt played team sports in high school, he was always interested in Mixed Martial Arts (MMA). He says the sport derives from judo but there's less of a focus on throws. It features lots of submission wrestling and grappling and began in the early 1900's when a Japanese judo master shared it in Brazil.
Matt's MMA journey began when a former DSFederal coworker introduced him to the sport about two years ago. Although he doesn't compete, he loves the stress-relieving qualities and considers the occasional injuries to his ribs and neck part of the game.
"It really humbles you, especially at first. You can feel frustrated, like your skills aren't getting any better," Matt says. "It's a complex sport with a high ceiling."
At DSFederal, we recognize the connection between body and mind. We encourage the "whole person" of each team member and support Matt's passion behind and beyond his desk!