Rolf Hargis Hugs the Handlebars with No Guardrails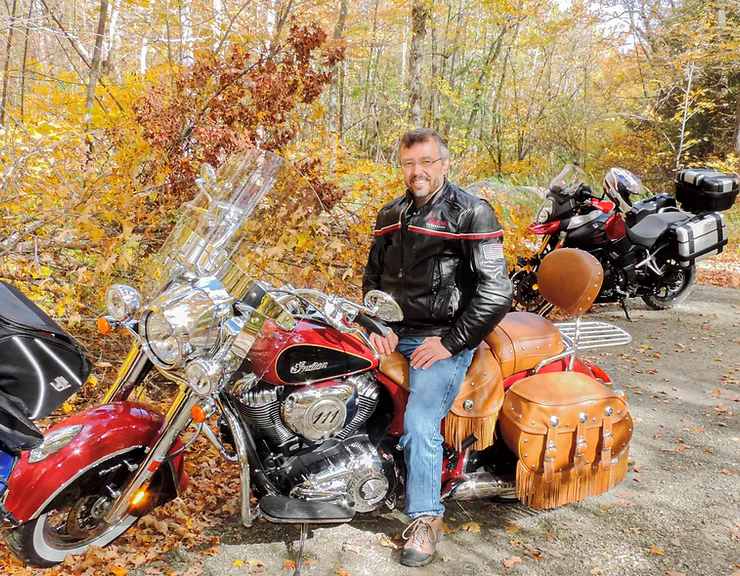 Meet Rolf. At DSFederal, he brings his analysis skills to the HHS Next Generation IT Services (NGITS) project and does what he calls lots of "thinking work," but away from his desk, the road opens its arms to him and Rolf surrenders to its smooth embrace.
It all started in 1977. That's when Management Analyst Rolf Hargis was just a 17-year-old kid shelling out six hundred bucks for his first motorcycle to save money on auto insurance and have a little fun. Well…a lot of fun.
Fast forward to 2002, and motorcycles had become his passion. By then he had followed the rules and bought a car, but he missed the freedom of his bike. A few years later, he went "whole hog," traded four wheels for two and purchased a "very retro" 2015 Indian Chief Vintage.
One summer day, back in 2011, Rolf decided he wanted to ride north, so he kissed his family goodbye for six weeks, cranked his bike and hit the road. With nothing but his wheels, a map and a tiny laptop, he rode from Pennsylvania to Upstate New York, clear through New Hampshire and up to Vermont. He chased lighthouses down the coast of Maine, stuffing himself with lobster rolls and corn on the cob, and indulging in wild Maine blueberries from roadside farm stands. He biked along the craggy terrain of Canada's provinces: New Brunswick, Prince Edward Island, and Nova Scotia, and for six glorious weeks, he camped out or stayed in cheap motels.
He planned as he went along, parking his bike to catch the cityscape of Burlington, VT and checking out the Baseball Hall of Fame in Cooperstown, NY. He went mountain climbing, and chuckles when he talks about the time, cold beer in hand, he and the Nova Scotia locals grooved to the wild fiddle and piano of Acadian music. He made a pit stop in Bar Harbor, a tiny tourist town on the tip of Maine, and hiked Acadia National Park.
Rolf says some folks thought it was strange that he chose to take this trip alone, but he disagrees.
"The trip gave me balance. It freed my mind and spirit and gave me a chance to breathe fresh air. It tapped into another part of my mind. Not the quantitative, logical part." He continues: "Sometimes I have to get away from work to look at beautiful things, to relax and feel peace. Just me and the mantra of the road."
DSFederal encourages the team to broaden themselves through work and play. We celebrate Rolf's free spirit and can't wait for him to gas up for his next adventure!