Stefani Olsen is Passionate About Cats, Unapologetically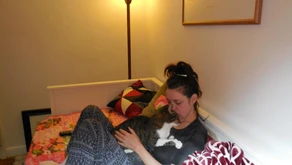 Meet Stefani. As devoted and skillful as she is in her role as Vice President of IT Services, she's just as dedicated to her passion as cat caretaker, advocate, and devotee.
"One of the motives for me to work is to pay for my cat habit," she says with a laugh, but seriousness lurks at the edge of her voice. She remembers the frightening time her beloved Quixote (as in Don Quixote) swallowed thread and required four thousand dollars' worth of surgery to repair the damage.
At one point, she had seven cats but now she's down to one. A sweet one. Fourteen-year-old Quixote is kind and clueless and doesn't get jealous when she comes home smelling like cat fur after spending time with other felines at House With A Heart Senior Sanctuary, a home for dogs and cats who need care.
During these days of quarantine, Stefani really misses volunteering at the Sanctuary– changing cat litter, mopping floors, washing dishes of pet food, and playing with the cats who look forward to her weekly visits.
How did this lifelong cat love begin? "I love all animals, but cats were the only pets we had growing up. I bonded with them as an only child. Being sickly, I didn't have many friends, but I had cats."
As an adult, the number of Stefani's cat babies has grown like a math problem: "one cat became two, then two became six when I rescued four cats during a business trip to Italy. The kittens were sick, so I rescued them and flew them to the United States."
That was in 2000, and by the time she rescued the kittens she had already adopted her second cat, her beloved Moxie (who recently passed away at twenty years of age). Moxie was adopted to befriend Toonces. She found homes for two of the four sick kittens, and kept two siblings, Miracle and Juju.
Over the years, her feline love has deepened. She's fostered diabetic cats, administered fluids and medications to ailing cats, taken care of brain-damaged cats, looked after cats with cancer and kidney disease, and nursed cats back to health post-surgery.
Of these tribulations she's learned, "In taking care of cats, you have to overcome a lot of fear and feelings of incompetence. At first, you're afraid to give a shot or fluids, afraid you're going to make a mistake, but you have to stare your fear in the face and accept that you're going to have questions."
Her lived-lessons contain kernels of truth for animal lovers and non-animal lovers alike: "You can't do a good job, no matter the job, without caring. Part of where quality comes from is wanting to do a good job. You have to push yourself past your fears and have confidence. Overtime, your life experiences start to marry up with your having to be comfortable stepping up. If you let fear stand in your way, you won't do your best for your team."
She continues: "Don't be afraid to be who you are and love what you love. Forget the world! Whatever it is that you love, even if people look at it askew, don't be afraid to immerse yourself in your passion."
Stefani is the embodiment of passion and compassion, both on and off the job. We are thankful and inspired by the expanse of her care for both the two- and four-legged among us.