Drupal Activist Nneka Hector Is An Open Source of Knowledge in Monthly Webinars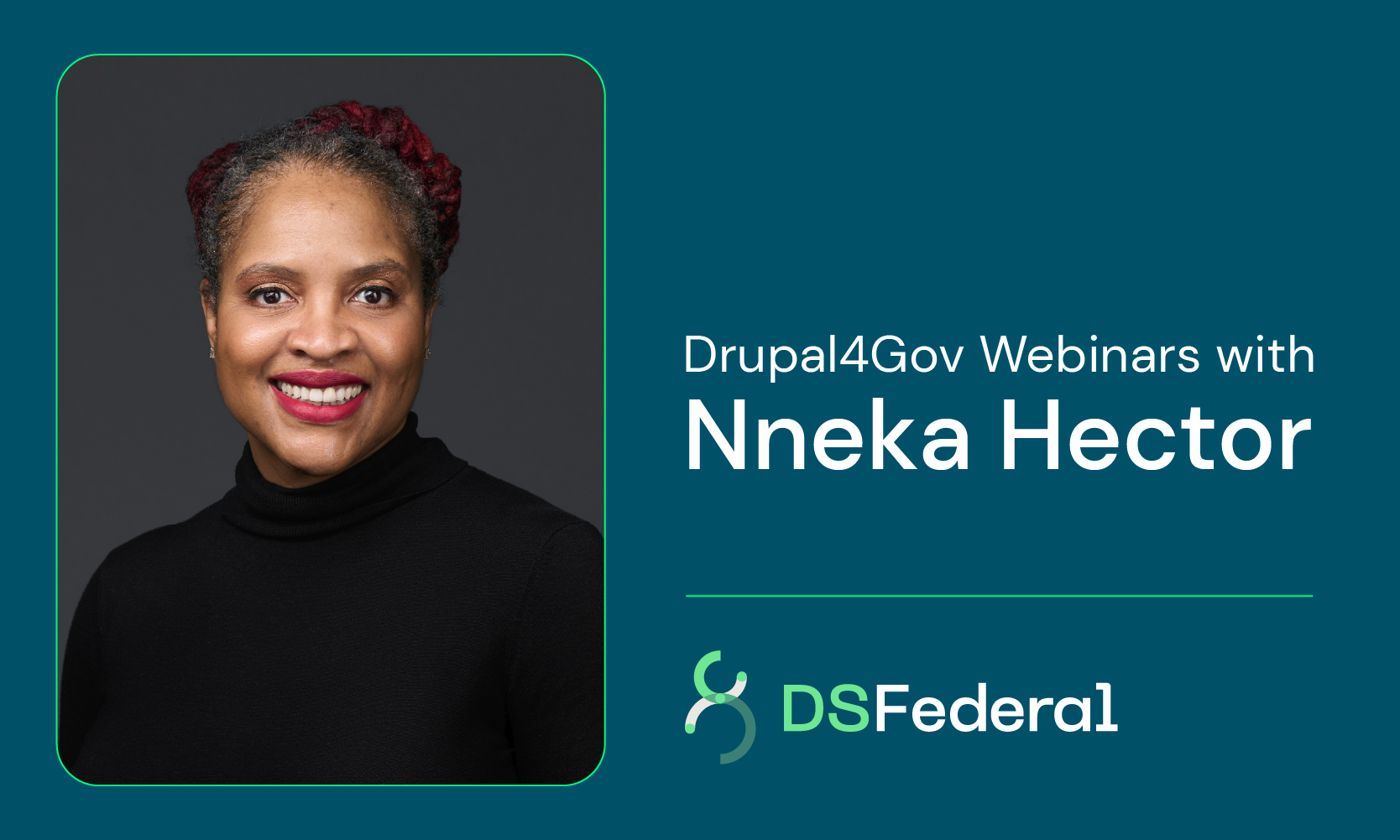 On the third Thursday of the month, Nneka Hector was ready to go live for the Drupal4gov webinar. However, unlike most program hosts, when the informative program began, she didn't introduce herself. She never does. "I know it's not about me," she said.
But of course, cream always rises to the top. At DSFederal, Nneka is widely known as a highly proficient Web Development Director. At Drupal4Gov, the local organization that spurred Hector's interest in moderating the Drupal4gov webinars, she's only been a member for three years, but in that span of time, has displayed her wide-ranging expertise, served on various panels, provided training, and enriched the organization as a whole.
Nneka credits Drupal4Gov founder, Kirsten Burgard, with getting her involved in the tight-knit community of developers. As she began taking on more responsibility within the organization, hosting a webinar felt like a natural next step. Her first webinar took place in January, and now that she's up to session four, she's beginning to get the hang of it. Topics on the one-hour program include the technical as well as the non-technical: in March, she welcomed motivational speaker Kisha Allen to explore "How Necessary is Conformity?" and on April 23, Drupal Celebrity, Jeff Eaton, discussed content modeling in "This is Not a Place of Honor."
Each webinar averages around 70 guests and meets Nneka's overarching goal of providing useful information to help participants improve job performance. "These are really for anyone who's interested in open source development and technology. I prepare by touching base with my co-organizers. I'm always looking for more interesting topics to cover."
The main source of promotion for Nneka's web seminar is social media, email communications and Drupal4Gov's annual conference, DrupalGovCon, slated this year for July 29-31. Due to the Covid-19 pandemic, the event will most likely have to happen online, but this adjustment won't dampen Nneka's excitement about her webinar one bit.
"I'm just a community activist for Drupal," she said. "I really love technology and the webinars help me improve my speaking skills. I get nervous, but I also get better."
DSFederal is deeply appreciative of the connections Nneka has fostered in the Drupal community and the bond she has perpetuated as a valued team member. Thank you, Nneka!